Luo Tribe History and Culture
Guest Author - Jeanne Egbosiuba Ukwendu
The Luo tribe is Nilotic tribe descended from pastoral nomads who migrated south from Southern Sudan to the land around Lake Victoria near the end of the 15th Century. They migrated in at least five waves starting approximately 1500 AD. The Luo gradually displaced the Bantu-speaking tribes living in the region that were the ancestors of the modern Luhya and Kisii (Gusii) tribes. By the 1840's the Luo had formed a tight knit society with ruodhi or regional chiefs or kings.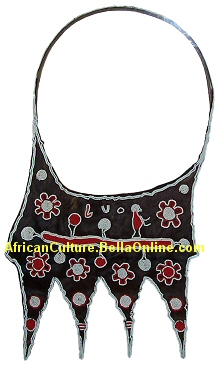 The Luo tribe currently lives in western Kenya, northern Tanzania, northern and eastern Uganda, and southern Sudan. The Luo tribe makes up 12% of Kenya's population and is the third largest tribe behind the Kikuyu and Luhya tribes. The Luo tribe consists of 12 subgroups or sub-tribes. They are also known as Lwo, Jaluo or Joluo.
The Luo generally speak three languages: Dholuo (their mother-tongue or tribal language) Swahili, and English.
Marriage and death are considered important rites of passage. At one time, polygamy was very common within the Luo tribe. Men were allowed to marry up to five women. Even today, dowry (in a ceremony called Ayie) is paid by the groom to the bride's family for the bride. The dowry usually consists of cattle and/or money. Traditionally, marriages were arranged by matchmakers, but this practice has also fallen out of favor.
Traditionally, the Luo believe in an afterlife and supreme creator, Nyasaye. They also have a strong ancestor cult. The Luo have many traditional rituals. The first major ritual is called "Juogi". This is the naming ceremony and occurs sometime between birth and age two. An ancestor will appear to a family member in a dream and the child will be named after that ancestor. Only good ancestors have the power to apper to family members in dreams. Children are rarely named after bad ancestors. Today most Luo tribe members are Christian.
The Luo tribe does not practice male circumcision. Instead the removal of the six lower front teeth is done in an initiation. This practice has fallen out of favor.
Famous members of the Luo tribe include:
Barack Obama - U.S. Senator from Illinois, U.S. President Elect
Jaramogi Oginga Odinga - Vice-President to Jomo Kenyatta from 1963 to 1966
Raila Amolo Odinga - Opponent to Mwai Kibaki in the 2007 Kenyan presidential elections. Currently Prime Minister of Kenya.
Ayub Ogada - Singer, composer and performer on the nyatiti also known as the Luo lyre.
For further details please click
here