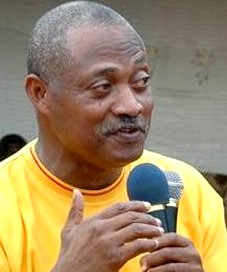 Togolese opposition leader Jean-Pierre Fabre still challenges the election results
© UFC Togo / afrol News
afrol News, 31 March
-
Togo's main opposition parties are disagreeing on whether protests against the election results should continue or not. Some parties have recognised the poll defeat, while leading opposition candidate Jean-Pierre Fabre still holds the election was stolen.
Mr Fabre, leading Togo's main opposition party United Forces for Change (UFC), obtained 33.93 percent of the votes in the 4 March presidential election, according to official results. Incumbent President Faure Gnassingbé was declared winner and his second presidential term will be inaugurated on 4 Mai.
The UFC however still claims the elections were fraudulent and that Mr Fabre had actually obtained most votes. Together with minor opposition parties, the UFC still is organising protest marches demanding a new election. Despite increased concerns over renewed political violence, a new protest march is to be organised in Lomé on Saturday 3 April.
But other parts of the Togolese opposition are now telling Mr Fabre he should understand the game was now lost. Nicolas Lawson, president of the opposition Party for Renewal and Redemption (PRR), this week attacked Mr Fabre, saying he was "wrong" and his "backwards-looking fight is doomed to failure."
It was now time to accept the situation and not trigger more instability "for the benefit of the Togolese people," Mr Lawson said. He accused Mr Fabre of "destabilising the country" and damaging the economy by his continued protests. The UFC must recognise "the costs of its actions to the country. We can not afford to waste the time of the Togolese," he added.
UFC leader Fabre reacted with anger to Mr Lawson's proposals, saying his words were "never constructive." Speaking at a local radio station, he added that his party had "a vision of combat, and we have a vision of the future of our country, which I think Nicolas Lawson is far from understanding."
Rather than listening to Mr Lawson's advice, the UFC has joined forces with three minor opposition parties - PSR, ADDI and FRAD - calling the public to join in further protest marches in an "appeal for resistance". On Friday, preparative protests are to be arranged outside Lomé, the capital. On Saturday, a large protest march is to intake Lomé.
The protest march, originally planned for 27 March, is seen as a possible high risk for renewed political violence in Togo. The march was first banned by government, but in negotiations with the UFC, the parties agreed it could be organised on 3 April. The postponement was agreed on "in order to avoid any recurrence of violence and to preserve the atmosphere of peace," according to a joint government-UFC statement.
According to the Lomé government, most political parties have by now accepted the official results of the 4 March presidential election. Only UFC and the three minor parties organising the protest march still challenge the conclusions by Togo's Independent National Electoral Commission.